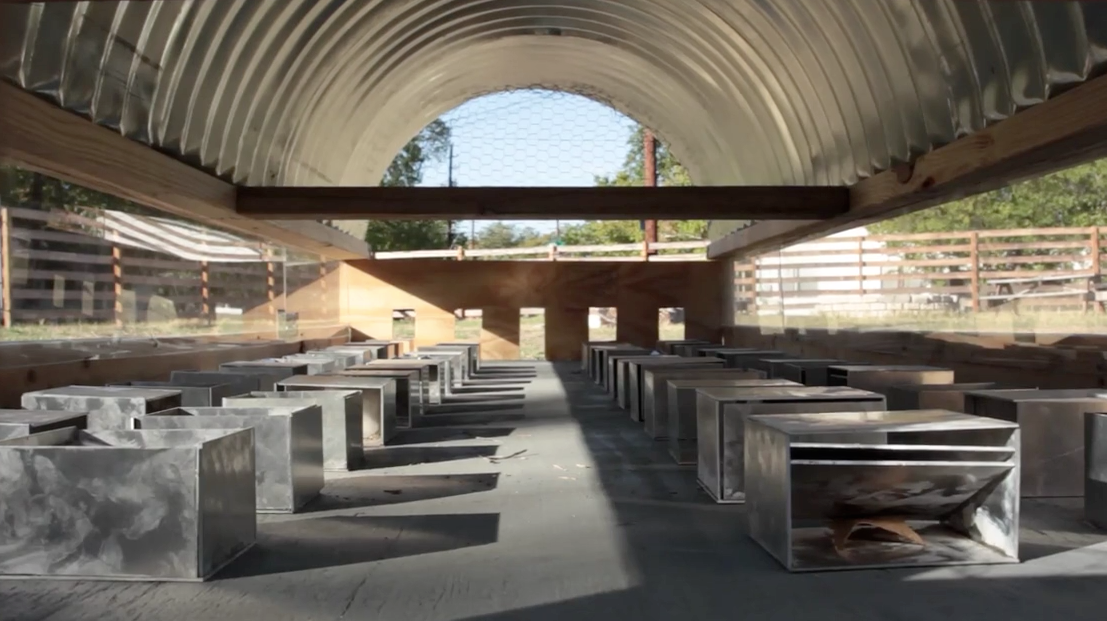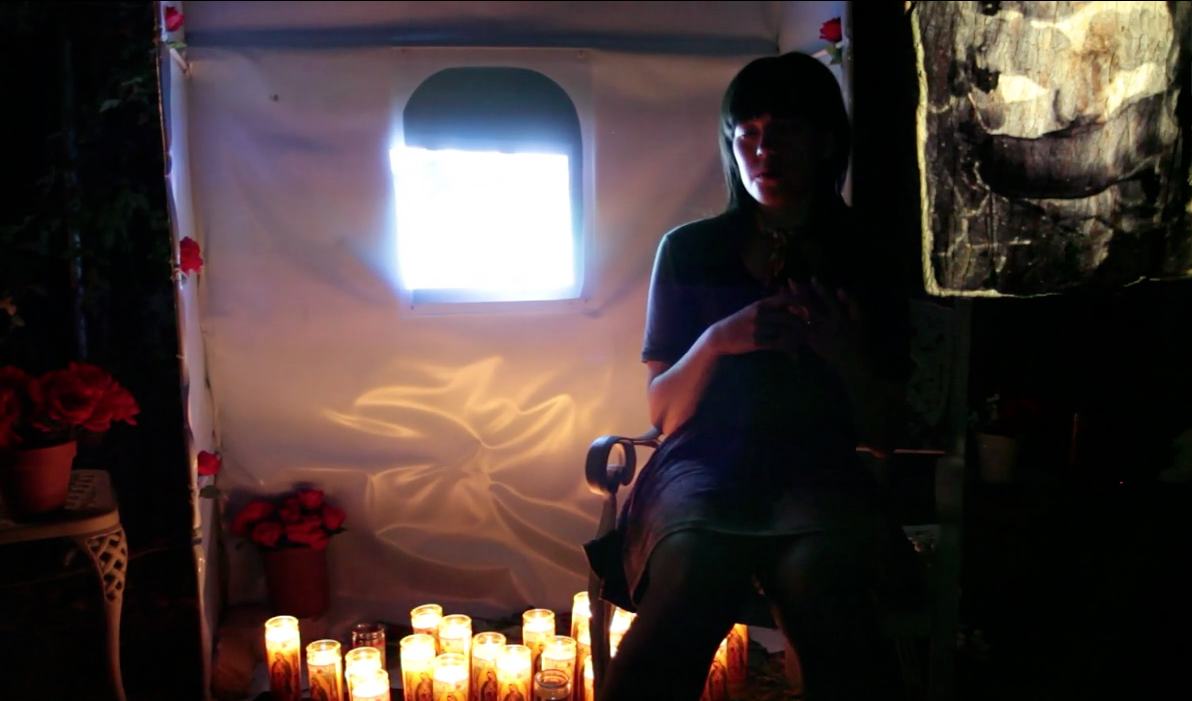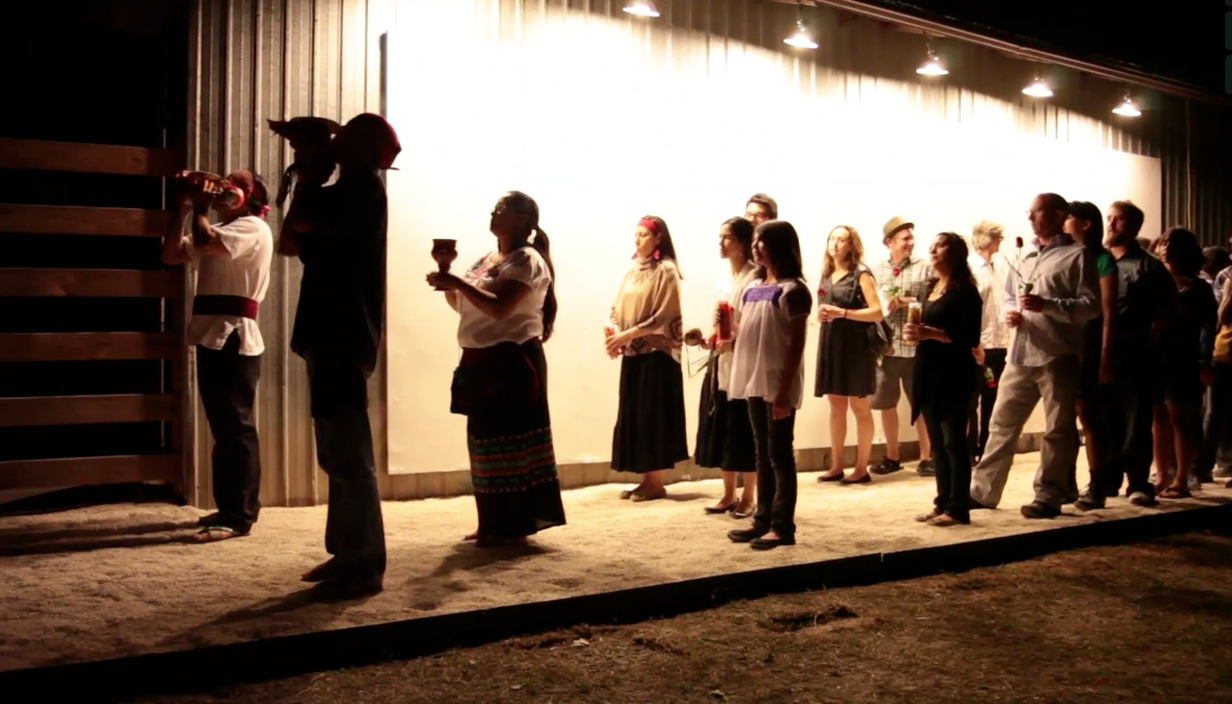 Photo: Nerin Kadribegovic

*all images are stills from films by Sean Gaulager (SG) or Alison Kuo (AK)
REVIEW by Jeanne Claire van Ryzin (Austin American Statesman)
PRESS RELEASE:
MARFITA
LARGE SCALE INSTALLATION RE-MAPS MARFA, TX FOCUSING ON APPARITION OF MARY
OCTOBER 15 – OCTOBER 29, 2011
OPENING & PERFORMANCE: OCTOBER 15, 7 PM
CO-LAB, 613 ALLEN ST, AUSTIN, TX
MARFITA is the Spanish diminution of the name of Marfa, a town in far west TX, population aprox. 2,200. Founded in the late 1800's, the town has served as a social center for the many ranches in the area, as home base for generations of migrant farmworkers moving seasonally between Texas and California, as the site of the US Army's Fort D.A. Russell, and most popularly today as home to canonical American artist Donald Judd's permanent installation of his works and select others, under the dual guardianship of the Chinati Foundation and the Judd Foundation. The Chinati alone draws over 10,000 visitors a year to what has become a pilgrimage site of sorts for Minimalist, post-modern, and contemporary art lovers from around the globe. Marfa has yet one more attraction however, a pilgrimage site proper, in all the religious and sacred implications that come with the use of the term 'pilgrimage.'
In 1994, the Virgin Mary appeared to Hector Sanchez, in the backyard of the last residential home one passes before entering the long driveway up to the Chinati's main office. Less than half a mile from Judd's famous cement blocks, Sanchez erected an altar to honor the apparition. Complete with hand painted statue of the Virgin overlooking a shallow cement grotto, and housed within an upturned bathtub, this installation is positioned so that Chinati is always in her sights, were she to ever look up from her worshipful gesture. She too draws pilgrims, and these are accounted for in the log kept by Ester Sanchez, the late Hector's wife. These two groups are largely unknown to one another, though their itinerant paths surely cross frequently at the auspicious, gravelly roundabout that leads one to one or the other.
The installation MARFITA seeks to trouble this relationship, to draw it out and question the dynamics that are shaping perceptions of the town. The four artists involved each have coordinated a main component of the project, interweaving their respective practices into an open conversation to which they will invite the community to join
Artist Bios
Alison Kuo is an installation artist living in Brooklyn, New York. Her current projects include a culture blog called Accidental Chinese Hipsters and a sometimes gallery show space in her apartment, dubbed the Darling House. In March of 2010 she had her first solo show, Nesting, at SOFA gallery in Austin, TX, and later that year she made an installation and collaborative video featured in the group show Dadarrhea at OHWOW in Miami. Dadarrhea made its second stop at Canada Gallery in New York in 2011. Links: www.kuospace.com, www.flickr.com/kuoskies.
Josh T Franco is a PhD student and Clifford D. Clark Fellow in the Art History department at Binghamton University in Binghamton, New York. His writing on MARFITA and the "Toltec methodology" behind it will be published in Spring 2012 as part of an anthology edited by members of the Society for the Study of Gloria Anzaldua. His past performance/fotoescultura work has been shown at the Esperanza Peace & Justice Center in San Antonio, TX and images published last year in the collection, El Mundo Zurdo. His dissertation's aim is the "decoloniality of vision". He has contributed to La Voz de Esperanza, The Thing Itself, zingmagazine, and is currently writing the preface for an upcoming book of poetry by Paul DeJong (of the Books). He is also co-editor of 7STOPS, an online monthly magazine.
Joshua Saunders currently lives in Austin and attends the University of Texas where he is completing his BFA. He keeps a studio at Monofonus, but continues to hoard, tinker, cut and paste in his home as well. One finds him on any given day with Exact-o knife in hand, bent over a way professional magnifying device. Saunders has exhibited solo shows at BiRDHOUSE, Big Medium, Domy, Co-Lab, and elsewhere in Austin. His work was shown alongside Fahama Pecou and Stephen Lapthisophon at Conduit Gallery in Dallas earlier this year.
Natalie Goodnow is a teatrista, teaching artist, and cultural activist from Austin, Texas. She is an Artistic Associate of Theatre Action Project and a member of The Austin Project as well as a recipient of the 2011 Jane Chambers Playwriting Contest, a national competition. Goodnow writes, performs, and directs; she's been practicing some combination of those forms for seventeen years, and started teaching about and through them 8 years ago. Her favorite thing to do is create original works for the stage, as a solo performer and in collaboration with other performers and playwrights, both youth and adults. Goodnow explores the relationships between people and places, in terms of relationships to community, to the Earth, and to our own bodies. She's got a crush on performance art. Links: http://www.nataliegoodnow.com, http://makinggoodnow.blogspot.com.
Project Links
Visit Co-Lab's website.
Keep up with the show: Follow our tumblr, and Like us on facebook.
Josh T Franco
SG
Josh T Franco crafted miniature (approx. 1:12 scale) reproductions of the artillery sheds of Fort D.A. Russell renovated by Judd's own hand and direction. These will be laid out on the outdoor grounds of Co-Lab according to their siting in Marfa. They will contain miniatures of the 100 untitled works in mill aluminum. Also included were miniature versions of the iconic cement block groupings arranged by Judd on Chinati's grounds.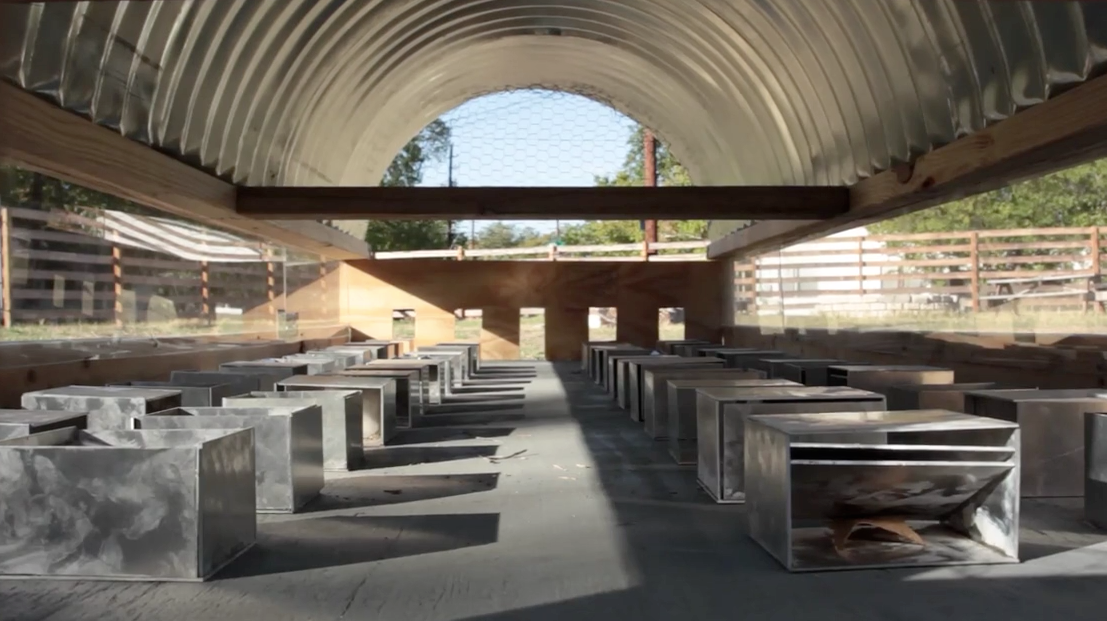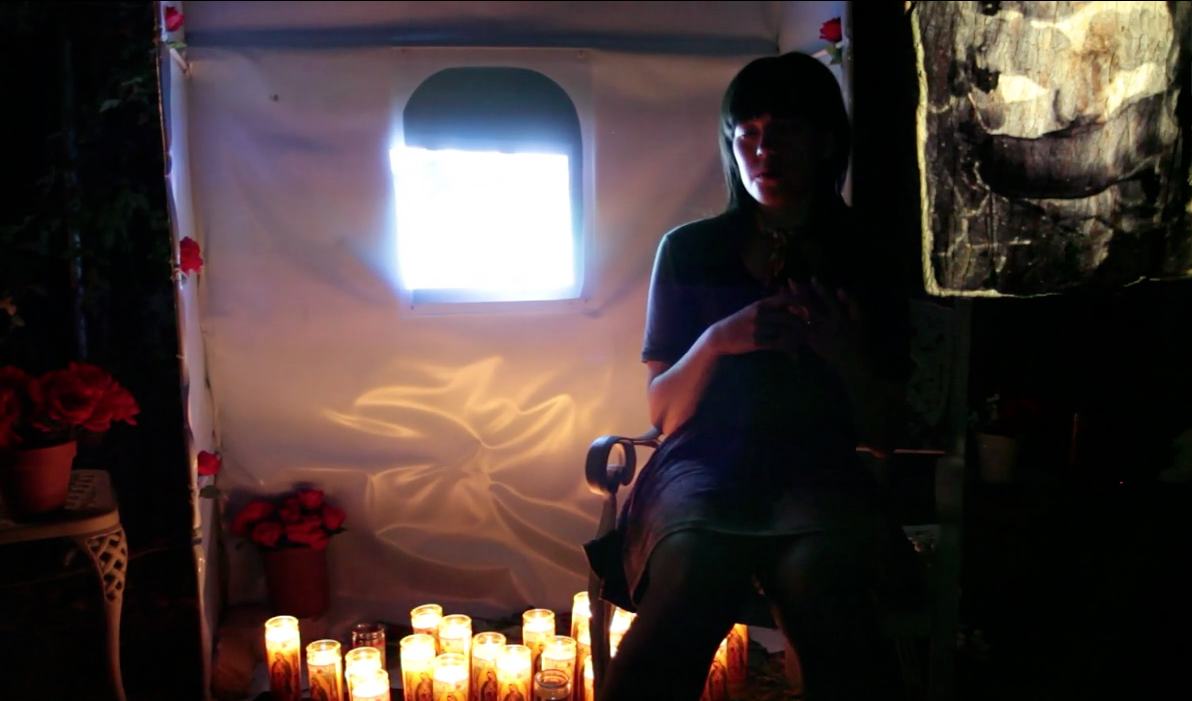 Alison Kuo
SG
Alison Kuo presented video made from footage shot during a group "double pilgrimage" to Marfa, motivated by an active interest in both the altar and the artworks by Judd and his associates. In the sequences, the art pilgrims encounter inspirational architectural elements in the West Texas landscape and respond to them with acts of playfulness. They move things, touch objects: sometimes invoking the spirit of Richard Serra's 1968 filmwork "Hand Catching Lead," while alternately piecing together their own rasquache altar pieces.
Joshua Saunders
SG
The interior of Co-Lab was transformed by Joshua Saunders into a loose reproduction of the interior of the Sanchez home where altar builder Hector Sanchez lived prior to his untimely death a month after the altar's completion. Some film and original collaborative works by the artists will be incorporated as well as Saunders' "live looped" reenactment of Hector's walk from inside to backyard, beer in hand, on that auspicious night.
NATALIE GOODNOW
SG
Composed of a renovated arbor, film, and found objects, an 8-10 foot enlarged reproduction of Sanchez's altar was situated behind the Co-Lab building beneath a tree, as it is arranged in Marfa. During the first night of its installation at Co-Lab, Natalie Goodnow coordinated a procession through the East Austin neighborhood where the space exists, culminating in a ceremonial, participatory prayer at the altar itself. The procession and ceremony were led by danzantes Goodnow has worked with regularly.